We have used technology quite a bit in the past few days and I would like to continue the trend. Yesterday, we used interactive books, Lightbox, to investigate the Earth's rivers and oceans. I think the students enjoyed learning from such an interactive source. The books have lots of videos and tutorials. It would be beneficial if students had earbuds that they could use in class. It would enable them to listen to the videos easier.
Homework: I am missing the water distribution lab and the ground water labs. Grades will be due soon and I want to make sure all students stay on schedule. Please check with your students and make sure they are turning in their work.

Powered by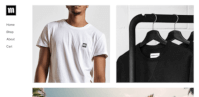 Create your own unique website with customizable templates.