We have been working on stations and learning more about erosion and weathering. The students have done a good job of staying on task and completing the lab work. I see some of them really learning. I hope this exercise will tie the process together for them.
EXTRA CREDIT - We took some time out today to review some awesome astronomy lessons. We will be experiencing a Super Blue Blood Moon early in the morning. I have offered extra for anyone who takes or sends me a picture of the moon. This is a once in a lifetime experience. I hope weather will cooperate and we can all enjoy the show.

​
Powered by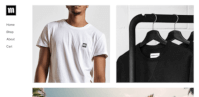 Create your own unique website with customizable templates.